Add to My TGB
Last night, I gave Alan Cumming and his childhood friends from Scotland a cooking demo in his kitchen. The menu included four vegetarian dishes: Fresh Lemon Garlic Salad, Wild Mushroom Cups, Korean Salad and my Grandmother's Rigatoni.
Alan loves to cook and enjoys trying new hot spots around NYC.  We've been to a lot of the same restaurants and both admire chef Jean-Georges Vongerichten.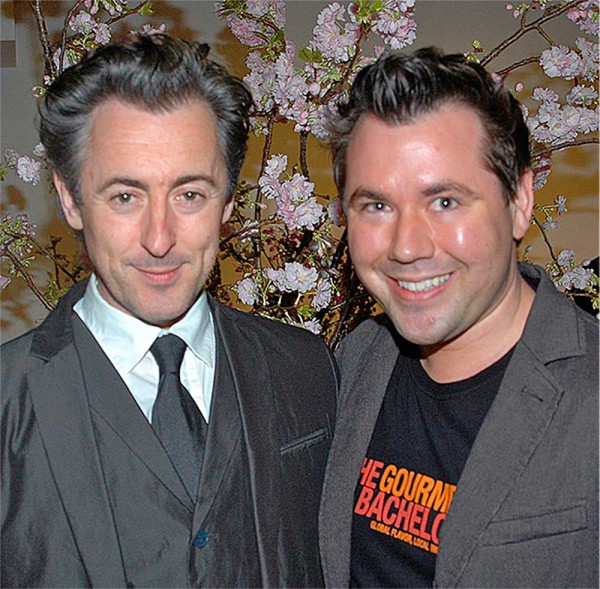 Alan was happy to chop, saute, blanche, mix, stir and do whatever I asked. He definitely knows his way around the kitchen.  His friends stood around the kitchen island and watched us prepare four dishes. I started off with a simple homemade dressing with just three ingredients: garlic, olive oil and fresh lemon. I showed Alan how to smash garlic once to remove the peel and then how to create a garlic paste. The salad was a success!
His stylish home is spacious, clean and open with funky furniture and modern art hanging on the walls, exactly as I pictured it. The mood was calm and chill.
We talked about everything  for British Royalty to Teletubbies…and a game called Two Truths and a Lie. He mentioned a TV show about the silly questions that fans always ask him. So naturally I said, "well…some of my Facebook friends are big fans and have questions for you." Seconds later, I realized that a compliment might be better than a question. So I mentioned that a film-maker friend from my hometown admired his Philly Film Festival feature Suffering Mans Charity. He seemed excited about the film…thanks Curtis!
Eventually we all sat down at a big table and enjoyed my grandmother's Rigatoni, Wild Mushrooms Cups and Korean Salad. We talked about the second season of The Good Wife and then later Alan checked out www.thegourmetbachelor.com. He seemed really interested in the restaurants on my NYC Hot Spots. We talked about my interest in hosting a cooking show and then eventually wrapped up the evening.
When I asked Alan the one thing he will remember from my cooking demos, he said, "How to peel garlic." That's pretty cool! I taught a Tony-Award winning actor something : )